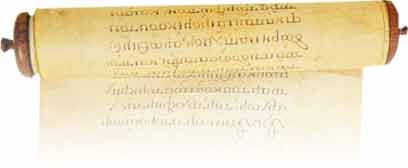 Micaiah offers a schedule of daily Bible readings which, if followed through the year, will result in the reader's having read through the entire Bible in one year!
Included, are three passages per day, covering both the Old and New Testaments.
To read any one of these passages, simply click on it.

May

May 1 - Act. 14, Jos. 22, Job 31
May 2 - Act. 15:1 - 21, Jos. 23 - 24, Job 32
May 3 - Act. 15:22 - 41, Jud. 1, Job 33
May 4 - Act. 16:1 - 15, Jud. 2 - 3, Job 34
May 5 - Act. 16:16 - 40, Jud. 4 - 5, Job 35
May 6 - Act. 17:1 - 15, Jud. 6, Job 36
May 7 - Act. 17:16 - 34, Jud. 7 - 8, Job 37
May 8 - Act. 18, Jud. 9, Job 38
May 9 - Act. 19:1 - 20 Jud. 10:1 - 11:33, Job 39
May 10 - Act. 19:21 - 41 Jud. 11:34 - 12:15, Job 40
May 11 - Act. 20:1 - 16, Jud. 13, Job 41
May 12 - Act. 20:17 - 38, Jud. 14 - 15, Job 42
May 13 - Act. 21:1 - 36, Jud. 16, Psa. 42
May 14 - Act. 21:37 - 22:29, Jud. 17 - 18, Psa. 43
May 15 - Act. 22:30 - 23:22, Jud. 19, Psa. 44
May 16 - Act. 23:23 - 24:9, Jud. 20, Psa. 45
May 17 - Act. 24:10 - 27, Jud. 21, Psa. 46
May 18 - Act. 25, Ruth 1 - 2, Psa. 47
May 19 - Act. 26:1 - 18, Ruth 3 - 4, Psa. 48
May 20 - Act. 26:19 - 32 1Sam.1:1 - 2:10, Psa. 49
May 21 - Act. 27:1 - 12 1 Sam. 2:11 - 36, Psa. 50
May 22 - Act. 27:13 - 44, 1 Sam. 3, Psa. 51
May 23 - Act. 28:1 - 16, 1 Sam. 4 - 5, Psa. 52
May 24 - Act. 28:17 - 31, 1 Sam. 6 - 7, Psa. 53
May 25 - Rom. 1:1 - 15, 1 Sam. 8, Psa. 54
May 26 - Rom. 1:16 - 32,1Sam.9:1-10:16, Psa. 55
May 27 - Rom. 2:1 - 3:8,1Sam.10:17 - 11:15, Psa. 56
May 28 - Rom. 3:9 - 31, 1 Sam. 12, Psa. 57
May 29 - Rom. 4, 1 Sam. 13, Psa. 58
May 30 - Rom. 5, 1 Sam. 14, Psa. 59
May 31 - Rom. 6, 1 Sam. 15, Psa. 60